My phone rang. I had just received a call from the Vice Chancellor of the Federal University of Agriculture, Abeokuta who also is the President, Association of African Universities. He sounded delighted to have spoken with me, and eager to see me. The phone welcomed several other calls, most from within the university intimating a pleasant urgency and some intuitive actions.
That morning, I was concluding plans to help facilitate a two-day training with some young professionals before returning to my 'location' for the community-based farming program. 'Multitaskingly', we were hosting an #OpenEd twitter discussion in commemoration of the 2014 Day of the African Child, with a focus on education of the African Child, the abduction of over 200 girls in Chibok, Borno state, demanding that strategies be renewed to #BringBackOurGirls and make schools, across Nigeria, safe for learning. Meeting the Vice Chancellor, he broke the news; I had been painstakingly selected for the Vice Chancellor's Productivity Award by the World Bank Africa Centre of Excellence in Agriculture – the Federal University of Agriculture, Abeokuta, as part of activities for the 21st and 22nd Convocation ceremonies. Values and benchmarks for the nomination, recommendation and selection were service to the university, courage, excellence, dedication, truthfulness, new initiatives, innovation, punctuality, selfless services and academic contribution. It was indeed honour and grace!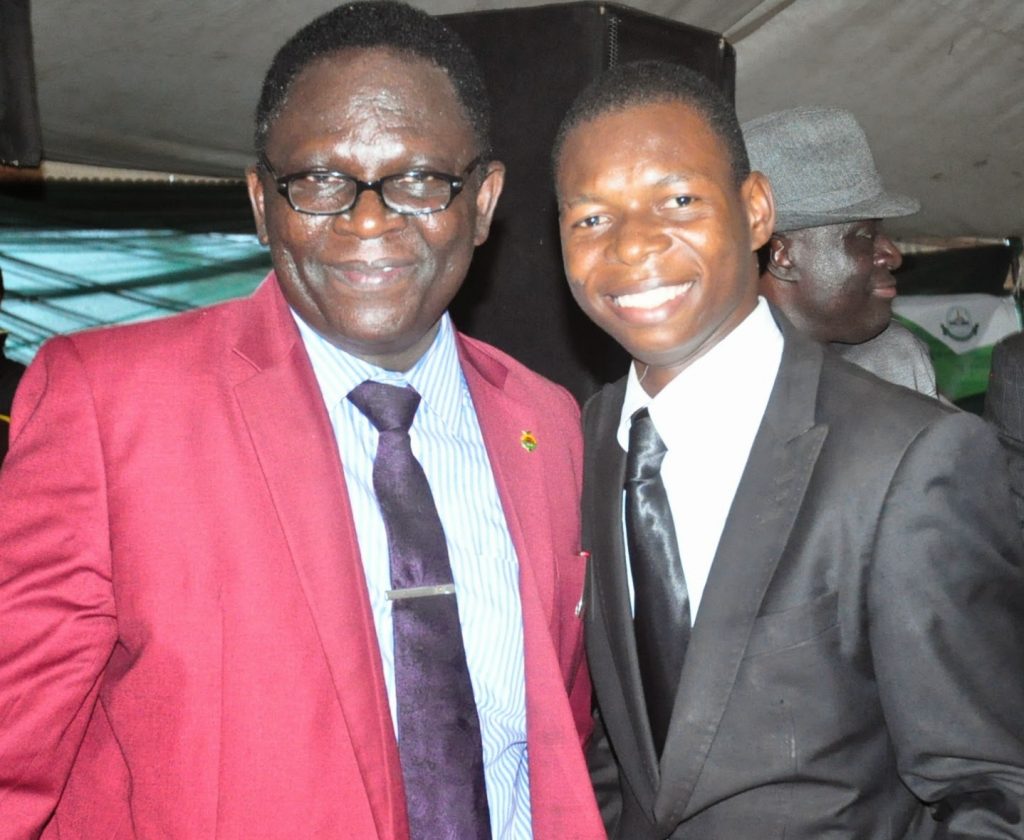 On the D-day, I joined other eminently distinguished personalities at the University's Heroes Day of Recognition and Excellence. I was elated as some academics and prodigies were called to step forward for honour as their citations gave convincing glimpses of their outstandingly remarkable contributions to humanity. I was fortunate to be one. That evening, I returned home more humbled with honour and thanksgiving – as the youngest awardee and only undergraduate among the honoured prodigies –, with a plaque which I must admit sparkles amidst other plaques on my shelve and an adjoining cash of a tenth of a million naira which was duly invested into getting more resources that will aid the growth of other young people and mine – especially as the non-profit organization I founded, All for Development Foundation hosted the Youth Roundtable on Education and Democratic Governance seven days after the Heroes day. The day and activities surrounding it taught and reminded of some lessons. In it, I learnt, unlearnt and re-learnt. Some of the lessons include:
Consistency Pays!
Among several other lessons, the award attested and still attests to a long term belief that consistency pays. It reminds that even when what you do is seemingly invincible to everyone, keep doing it. Keep keeping on. When faced with challenges and you don't know what to do, just keep breathing, keep believing, don't let go, don't give in. The towel is always there, we may decide to throw it in or use it to clean our sweats and proceed more intelligently and passionately, after deep reflective thoughts. It may be surprising to note that most of the projects I and our organization have embarked on for the last five years (since year 2009) are self-financed. However, two major things that kept us going were the strong conviction that what we did/do made/makes a difference and the people we are focused on are capable of making positive differences. The same principle may apply to whatever you are into, either as an academic or social entrepreneur, a musician or comedian, an artist or skills professional. Be consistent in what you do. You may learn from another long-term mission of mine, which is the conscious commitment to the consistent creation of value. Wherever you are, be there indeed!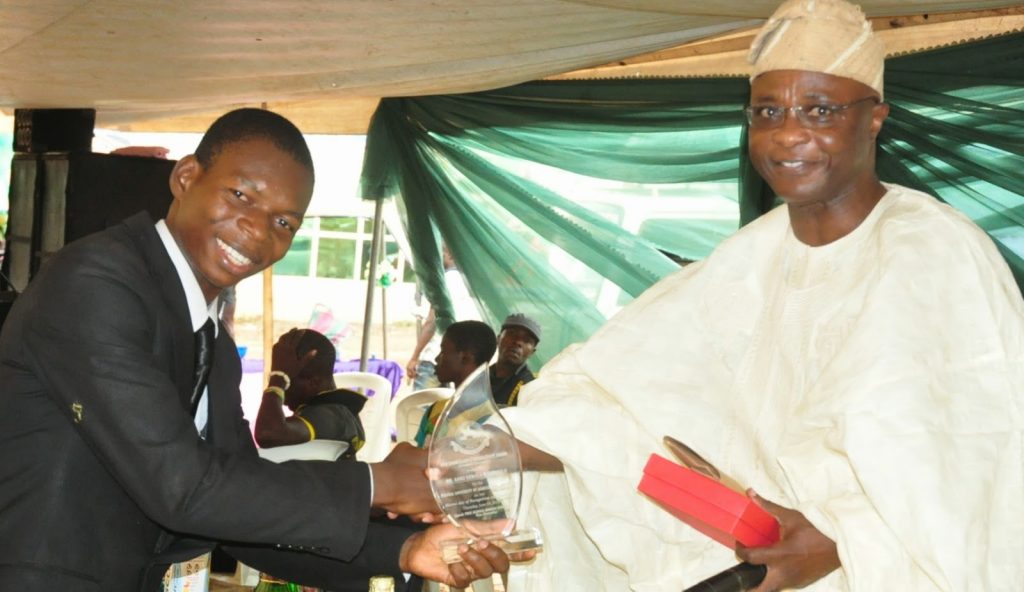 Uphold Integrity
Integrity is more than just an attribute we mention when describing the type of leaders we want – within the students' union, university senate, local, state and federal government and the entire society – Integrity is a key value which other values of accountability, empathy inter alia is dependent. Integrity is the reflection of morality of character in any and every situation. I once learnt from a wise man that integrity commits itself to character over personal gains, to people over things, to principles over conscience and to long-term view over immediate gratification.
Give recognition and show appreciation
Appreciation and genuine recognition matters. That, as I heard and later read is one of the reasons for the rebirth of the award; 'the University believes that there is always a reward for outstanding performance and such reward will serve to encourage others to emulate those who have previously been recognized'. Taking it beyond official recognition, we can admit, after a deep reflective thought that others have contributed to our current success. The time to show appreciation is ripe. Appreciation begets more. As you walk through the crowd, walk slowly,recognize people's efforts. Smile, shake hands, listen and truly appreciate the contributions of others on your growth. No man is self made. Everyone is a product of interactions with divinity and others. Robert McNamara, a former President of the World Bank, once said 'Brains are like hearts – they go where they are appreciated'. Imagine a community where everyone is appreciated, celebrated – not just tolerated – for who they really are. The existence of this community – even within our immediate environment – is achievable.
Build quality networks and bridges
The Heroes day provided another platform to meet, interact and build bridges with others. Have you ever heard that our network is a determinant of our net worth? If we are assessed in terms of social capital – and not financial riches – how wealthy will you be? Everyday presents opportunities to build quality networks with people. Build an effective relationship with God, yourself and others. Don't call God your father and live like an orphan. Though we may not be influential enough to choose our family – parents and siblings – however, we have the ability to choose our friends. Another wise man once challenged people to evaluate those they spend/invest their time with and decipher those that add more value to them and those that diminish their self esteem. This is not only applicable in business relationships, but also in platonic and other relationships. Decide who your friends are. Don't be parasitic; invest positively in them too.
Discern the call and step up to the challenge
I would have made a very big mistake if I had taken the recognition and award as an unending call for celebration. Of course, it was, but also more than just a cherished recognition, it is also a call. It is a call to service; a call to stand tall in the face of adversity. For all young people reading this,
it is a call to dream more, think more, grow more and do much more. Don't emulate the past, be the future. It is a call to build more capacity and positively influence the world within and around us. It is a call to pursue excellence through diligence; to work towards greatness, not just success. It is a call to ask ourselves pertinent questions and give honest answers. The choice is ours to heed this call.
Regardless of anything, be thankful for everything.
This is self explanatory; worry about nothing, be thankful for everything. I have never – and with grace, will never – fall prey of believing that a certain thing is not enough to be thankful for. As I mentioned earlier, appreciation is key. Permit me to set this balls rolling; I appreciate everyone that have been instrumental to my growth, everyone that I have been a blessing to, everyone that heeded to an advise I gave and got positive results. I am also appreciative of you for reading this thus far! Do the same. Love indeed!
Conclusively, productivity may not be a function of acceptance. Continue doing what is right. As young people, we have several responsibilities and rights, the future of our nation – soon – lies on our shoulders. We have to be committed to act as if our every of our action becomes a universal principle, living in respect to our values. The productivity award is a reminder to all young people that we can achieve what has been set out to achieve. Work in accordance to God's plans for you, act diligently, seek knowledge of who you are and who you can become. In addendum to all we had discussed earlier, I urge you to treat each day with utmost commitment and sincerity. Commit yourself to honesty, reliability, and always remember this: for excellence and growth, do what you have to do, in order to do what you want to do.
I believe in you!